Box.com cloud storage is a robust tool for file storage, sharing and collaboration. The following short-video identifies the top getting started features.
Duration: 4:24
---
Box.com cloud storage, collaboration and content sharing
Box Inc. is an online file sharing and personal cloud content management service. With your Tulane University credentials, faculty and staff can create an account which will provide you with more than 50GB of free storage. Students do not have access to a Tulane provisioned Box account but may create personal accounts directly with Box.
---
---
Document Management:
Keep all your files in one place that you can access anywhere from any device.
All your content will live in one place that you can access from your desktop or mobile device.
You will be given access to specific department related folders and you can organize your private business content in your own folder tree.
When your files are stored in Box you have a quick, easy and secure way to review version history and share your files internally or externally.
Collaboration and Group work spaces:
Are group projects a challenge – not the good kind? Are you bombarded with emails, making it tough to determine the latest file version? Box allows you to centralize files in a single online workspace.
Invite your colleagues or clients to Share and Edit: Turn folders into shared online workspaces, invite people to view, edit and upload files and more.
Do you have a client who you need to actively work on a long-term project with? Invite them into a folder to have a lasting working relationship. Learn more about inviting collaborators now.
Post Comments and Assign Tasks: Whether you leave a quick comment or you want to assign a task, keep the whole team on track by exchanging feedback in one place. Instead of going back and forth in a long email chain, use comments to maintain the conversation history around your content in a single place.
Share and send large files
Using box will allow you to share files much larger than what you can with regular email. Replace email attachments by uploading your file to box and sending a url.
You can create a unique link to any file or folder in your Box account.
Send your links to anyone with or without a box account for view and/or download access
Shared Links always point to the most up-to-date version of your file. When you make changes to your file, you do not need to resend the link.
How do I create a Box.com account?
Faculty and Staff can set up a Box account, allowing 50 GB of storage, using Tulane University credentials. Students do not have access to a Tulane provisioned Box account but may create personal accounts directly with Box.
---
Setting up an account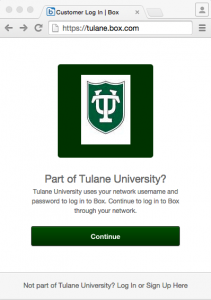 Sign in with your Faculty or Staff Tulane University credentials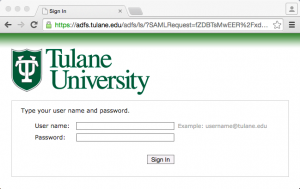 After you sign in, your account will automatically be created.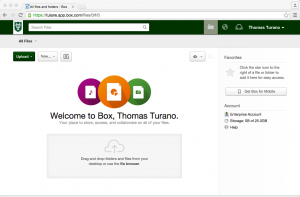 You can now start using Box create folders and upload files
How do I create folders in my Box account?
Creating folders is a great way to stay organized when using Box. There is no limit on how many folders you can create in your account.
You can create different file types or folders directly from your Box account. Right-click in the Files and Folders screen or select one of the options from the dropdown menu revealed when you click the New button in the top-left corner.
Creating Folders
Click the New button or right-click in the Files and Folders screen
Select New Folder from the dropdown menu
Enter a name in the Folder Name field
You can select to either keep the folder private or invite collaborators. If you would like to invite collaborators, enter their names or email addresses in the field and select the access level they will have:

Click Okay
Understanding Folder Icons
Folder icons differ based on factors like shared link type, collaborator permission, and access levels. Some of the frequently-used icons are identified in the following table:
Icon
Description

Owned by: You
Color: Manila

Owned by: Someone within Tulane
Color: Blue

Owned by: Someone outside of Tulane
Color: Grey
Folder Ownership
Additionally, the folder ownership status is displayed next to each folder icon. Folder ownership is determined by collaborator permission, and access levels.
If a collaborated folder is owned by you, Box displays Owner next to the folder icon.
If a synced collaborated folder is owned by you, Box displays Owner next to the synced folder icon.
For external folders, Box displays the name of the external owner.
If the owner is a free user with no enterprise, Box displays Owned externally next to the folder icon.
How do I view my Box files and folders in Canvas?
Box.com is integrated with the Canvas LMS. The Box tool can be added to your Canvas course to share documents and allow upload/download of course assignments and contents.
---
Users should follow the steps listed below to enable Box access from within Canvas.
Login to Canvas > select Account from the menu
Next, select Settings from the menu > click Box
You will see the Login to Box window
Choose > Use Single Sign On (SSO)
Input username@tulane.edu > click Authorize
Authenticate Tulane's login prompt with username/password
Choose > Grant access to Box button
Box validation > you are currently logged into Box window appears
Click and drag the Box cloud shape into place to view Box files
What file types can be Previewed in the Box viewer window?
What files types can be Previewed in the Box Viewer window?
Most Office and PDF files can be opened in the Box Viewer. Some files types are viewable in beta mode or must be downloaded before they can be viewed. Click the link below to view the list of file types available in the Sample Preview mode.