In some cases, students are permitted to take an exam more than one time within a Blackboard course.
---
Users should follow the steps listed below to locate the link to retake a test in Blackboard.
Login to Blackboard.
Locate the course where the test can be found.
Navigate to the content area where the test is located.
Click on the test link to open the test.
Click "Begin" to retake the test.
At the Test previously taken screen, locate the words "or take the Test again".
Click on the words "or take the Test again" to start the test retake.
Note: Clicking on OK at this screen will display the results of the first attempt instead of initiating the retake.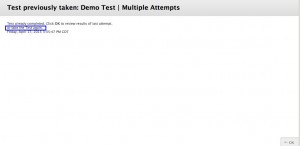 ---
Watch the following video to learn how you can locate the link and retake your test.